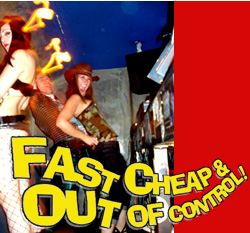 FIRST THERE WAS FAST CHEAP AND OUT OF CONTROL...
Philadelphia's ORIGINAL rock&roll amateur go-go night.
You loved it then...or maybe you were too young to get by the bouncer but check it out now...
ASK AND YOU SHALL RECIEVE!!! FAST CHEAP 1-2-3-4 K.O. DRINK SPECIALS: $1 PBRs, $2 Lagers, $3 Jaeger Shots til midnight...$4 Lager-n-Beam Combo ALL NIGHT LONG
Subscribe to the cheap,
low-down dirt dished out
on this raunchy party!!

CLICK HERE TO JOIN!!
Receive FastCheapParty news,
monthly calendars, special
members-only invites and more!